Basketball
Warriors VS Thunder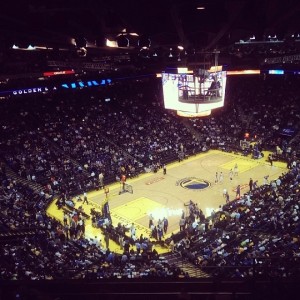 15th November 2013: The USA and sports are always associated, and especially NBA basketball and their star athletes. To have our own idea about this topic some students and I bought tickets for an NBA match in order to find out about the famous ambiance during a basketball match. We watched a match between the Golden State Warriors and the Oklahoma Thunder, two really good teams but we were not able to predict the incredible match that these awesome teams would offer us.
All of the EC San Francisco English School students took BART to the Coliseum in Oakland. When we arrived the first thing that we noticed was the number of people walking in the direction of the stadium and we could also see that most of them were for the local team, the Warriors.
We finally arrived in the stadium we had to find our sits, and then find some foodJ. All of us chose, let me say, the traditional American meals: hamburgers and chicken wings.
Once the stadium was full the match began… and we couldn't believe how exciting the game was! We were not bored for even a second and the last 5 seconds of the game were just magical. The Warriors won as the buzzer rang and gave a taste of a Hollywood movie to this epic end. An incredible experience!
More than that during each quarter some activities and shows were organized to keep all spectators excited. Some were really strange like a girl showing how flexible she was, touching her forehead with her buttocks. In conclusion I could only suggest you to try an NBA match, it's for the moment the best experience I have had in the USA.
Simon Jeckelmann, Switzerland
Comments
comments