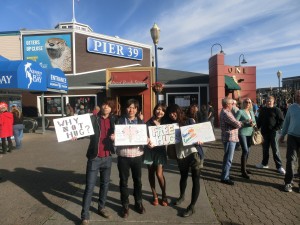 One of my best memories while studying English at San Francisco English school was on the 26th of January, I did something memorable in my life in San Francisco. It's called "Free Hugs". Three of my friends, Yumiko, Daiki, Susumu and I made some signs that said "free hugs" and took them to at Fisherman's Wharf, one of the most famous places in S.F.
The reason why we decided to do it is because we wanted to prove that hugs are  boarder-less. Japanese are said to be very shy and conservative because of our personalities based on our traditional culture. We usually don't hug in our usual lives so this action is kind of uncommon for us. Before we (I mean the four of us) came here, we didn't have the habit of hugging and sometimes felt embarrassed about it. Notwithstanding, through our studying abroad, we realized that hugs can be a part of our lives and makes our lives happier. We really wanted other people to notice the importance of it and this feeling let us carry out this plan.
I can tell that this movie will be one of our best memories in our lives and hope it will be a link in some small way to spread the preciousness of hugs among the people who are not accustomed to it.
I will be glad if you guys watch it. Thank you for your reading.
Misa
Please follow this link for our "Free Hug" video.
Comments
comments