Surviving the transportation of San Francisco can be something very difficult for a newcomer in the city. Having so many different bus lines, metro, light rail systems could turn your first week into a nightmare. But…learning how to use the public transportation in San Francisco is not that hard at all! (thanks goodness!).
Here are four tips for you:
First of all there are two big companies of public transportation, Muni and BART. The first one, Muni, works only in San francisco and it's the owner of both the Muni busses and the Muni metro/light rail system, these are the ones in charge of taking you everywhere inside San Francisco. BART works all the way from Oakland to Millbrae (SFO Airport). From my POV, it only works if you're looking forward to go to going to Oakland or if you are living in a host family (usually those are located in Balboa Park/Daly City/Pacifica/etc..). It is also helpful if you are staying in The Monastery, and could be useful since is the fastest way to get to school! (You could take a bus or a light rail but it would take much longer and you will only save around $10 per month!)
First tip: Buy a clipper Card and load it with a Muni Fast-pass! How does it work? Easy! The clipper card is a magnetic card that you Load up with money for public transportation services, you pay a monthly fee and you get unlimited trips on the service that you paid for! The Muni Fast pass includes unlimited trips on both Muni Metro and Muni bus and Unlimited trips on the BART, BUT, BART only works between Embarcadero Bart station and Balboa Park Station, so if you are planning on going to Oakland or somewhere in South San Francisco you will have to pay extra!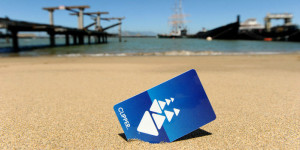 Second tip: Use Google maps! It works almost perfectly and it will help you to get your exact and fastest route (which buses you should take and in which stops you'll have to go down). If your cellphone doesn't work, you don't have an American number, or you just don't have a cellphone…go to a computer and print the route! it will help you anyways!
Third tip: Buy or get some free San Francisco maps, they're easy to understand and are a perfect plan B!
Fourth and last! Californians are very, very, very friendly! Don't be afraid to ask to anyone on the street, or if you feel you're lost don't hesitate to ask either the bus driver or to someone in the bus, they will be happy to help you!
By Daniel Lopez, General English Student
In the Advanced class led by Teacher Dee, 5 students were tasked to share some piece of advice for prospective and incoming students! This is the origin of the serie of blog posts: "Learn English in San Francisco – Surviving your first several weeks".
Comments
comments