One thing you must know before coming to San Francisco is that your usual food doesn't exist here. You have to get used to new smells, new flavors, new habits and you'll probably sense them just by walking down any restaurant district filled with any type of international cuisine. You are going to have so many options that you will want to try them all and end up not knowing which one you want to try.
The funny thing is: I am not only talking about restaurants. This is the same feeling you're going to get when you walk into your first food store. Let's say you want to buy just some milk and cereals. Pretty easy usually, isn't it? Well, it is not.
Once you get to the right section after some wandering around, you'll have to decide among hundreds of brands, tastes, prices, discounts, boxes, names that you don't know, flavors that you never heard about and so on… and finally, when you've picked the one that looks more familiar to you and you approach the line to pay and get out from that chaos… the milk!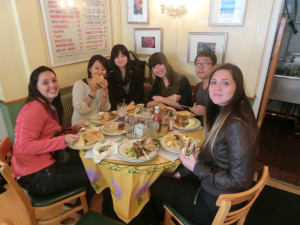 Here we go again then: low fat milk, 2% fat milk, chocolate milk, coconut milk, soya milk, bio milk, rice milk etc. This happens with whatever you want to buy in any places you will go. It may sound strange but, you are going to get used to it. No worries.
Let's talk about some tips.
If you need to buy facilities, goods of every kind or cheap food the place where you want to go is Target or any kind of Mexican market in Mission district. They might look suspicious, anyway their products are totally fine and prices are really affordable. Otherwise, if you don't care so much about saving money but you really care about healthy food and bio products the places you might want to check out are Whole foods and Trader Joe's.
What about restaurants you may wonder. Well, the only suggestion I can give you is: stay away from Californian cuisine.
Seriously, they should make it illegal. You don' trust me? You will. San Francisco is well known for being multi-cultural and so are its restaurants. I really recommend a romantic dinner at North Beach in any Italian restaurant (mostly owned by Italians) to experience one of the best cuisines in the world. You also really want to try clam chowder in a bread bowl after some shopping at Fisherman's Wharf and a delicious burrito in Mission district. But, wait a minute, don't we miss something? USA, food, restaurants… Burgers! Okay, here's the deal: don't go to any McDonald's or Burger King, there are way better places to enjoy a big-juicy-tasteful-american burger. I really recommend Super Duper, In-n-Out, Johnny Rockets and Lori's Diner, all of them are amazing.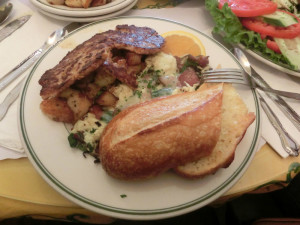 Last tip I want to give you is, TRY. Maybe you'll never have another opportunity to try these things, and sometimes changes are fun. Enjoy and experience San Francisco, completely!
Sacha Ambrosini, Semi-Intensive Program Student
Comments
comments