In the 21st century open-mindedness is one of the most desired things by all the people all over the world and, since San Francisco is seen as the capital of the mind's freedom, a lot of people (especially young people) dream of seeing at least once in their life this beautiful city. But since I arrived here I noticed something really strange and I had always been asking myself one question:
"Can open-mindedness be a problem?"
But I could not find an answer to this question mark because after it I had always to ask myself:
"If something is wanted so much as open-mindedness is, how it can be a problem?"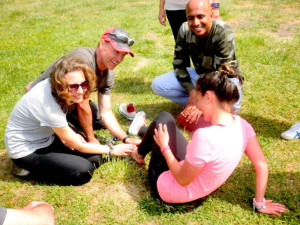 After five months spent in this city, I think I could answer this question by saying that open-mindedness could be a problem, especially if you come from a small country mainly populated by close-minded people that don't see unusual things well and that usually don' t like to approach strangers.
"Approaching strangers". What a beautiful, strange, fearful, normal and unusual concept. Put simply, it is just a subjective concept, but when you live in San Francisco for five months, you realize that approaching strangers is everything but subjective. In fact, while walking down the streets of the Bay Area, there has never been one time that I could have felt "non-wanted" among San Franciscans. They seem to love me; they seem to love to talk to me just to hear my accent. After five months here, I realized that San Franciscans love to talk to people, no matter who they are.
Personally, I think that communication between people in this city is just wonderful, but, as I mentioned before, it could be a shock.
How nice is it when you step on the BART train and you are tapped on the shoulder by a person that just wants to let you know that they love your T-shirt, or your pants, or simply you! It is just a little thing that can seriously better your day and I wish it was like this in my own country and in every country of the world. This is all so nice and unusual that even in its beauty could be shocking, in a nice way.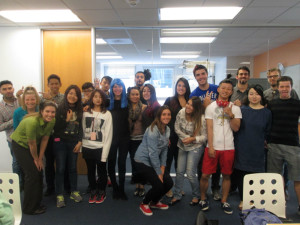 But what if a homeless or a crazy person starts talking to you?
Don't worry, you are in San Francisco!
That's how I would answer to this question now, but that's surely not how I would have answered five months ago. When you are born and raised among people that are afraid of the diversity, you automatically feel uncomfortable when you are approached by "these people". Probably, I could say surely, this reaction is normal and understandable, but do not close yourself in a bubble! Nobody's going to hurt you with some words, so relax yourself and don't be afraid. This is San Francisco, craziness it's almost normality! So let your hair down and enjoy this "freedom of communication" because there's nothing better in the world than feeling free to talk to everybody, no matter who they are.
-Tanja Dokic, Semi Intensive program for 12 weeks in EC San Francisco
In the Advanced class led by Teacher Dee, 5 students were tasked to share some piece of advice for prospective and incoming students! This is the origin of the serie of blog posts: "Learn English in San Francisco – Surviving your first several weeks".
Comments
comments