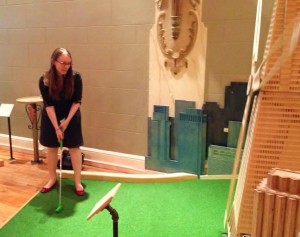 Meet Marin, the new English Language Academic Year (AY) Coordinator here at EC SF, an English language center in San Francisco!
For those who don't know, the English Language Academic Year program is for students who study at EC for 24 weeks (approximately six months) or longer, which gives students the opportunity to really focus on learning English in a comprehensive manner. Academic Year is highly encouraged for students with an academic focus, whether planning to take the TOEFL or Cambridge tests, wanting to get ready to attend an American university, or need to be fluent in English for their job or career. Academic Year students receive extra support in their learning, including the opportunity to attend lectures, meet with a tutor, and receive a certificate at the end of their program. As well as taking on some teaching duties, Marin's job is to make sure all of this runs smoothly!
…
Here are a few questions we asked Marin to help us get to know her and learn a little bit about what she likes about her job.
Please tell us a little bit about yourself.
I've been working in EFL (English as a Foreign Language) since 2004, first in Russia, then the USA. The Bay Area is my home, and I'm happy to be back!
My favorite things to teach in an English course are conditionals, idioms, and pronunciation.
How long have you been working at EC SF?
Just over two months. I started in the middle of July 2014.
What is the best thing about your position?
I like being able to talk to the students one-on-one and see how much better their English gets during their stay here.
What is your favorite or most memorable experience abroad?
In 2007, I spent the summer travelling across Siberia. It was a great trip in general, but I think the highlight was swimming in Lake Baikal.
What is your favorite thing about San Francisco?
The food! We have fresh fish from the ocean, fresh produce from the California Central Valley, and great wines from Napa and Sonoma. English Language Academic Year
…
Learn more about EC's English Language Academic Year Program!
Comments
comments