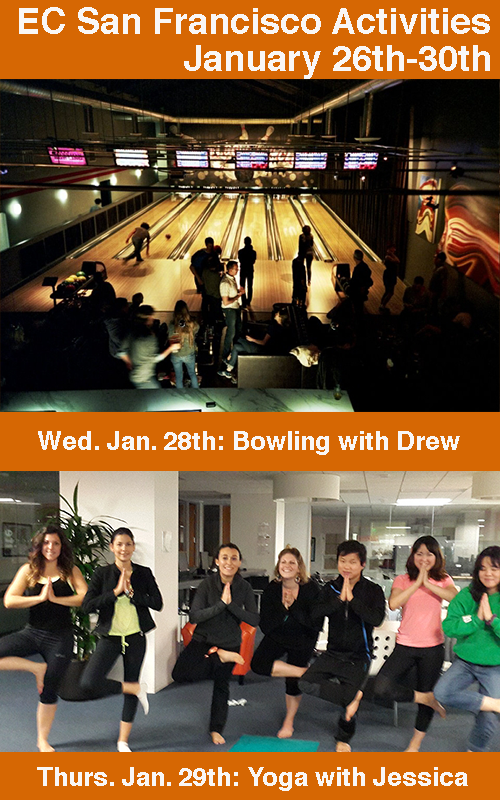 As Superbowl Sunday approaches, EC San Francisco's social calendar is full of sports-related activities for students. Playing sports is an excellent way to learn English with friends. Whether you're interested in indoor sports, such as bowling or yoga, or sports that you can play outdoors, there are plenty of fun-filled activities coming up. Are you interested in trying the all-American tradition of rolling heavy balls down a narrow lane and trying to knock down white and red pins, while laughing, cheering and drinking beer with all your friends?If so, then you should definitely join Bowling with Drew on Wednesday, January 28th. The group will meet at the front desk at 5:45 and head out to Mission Bowling Club near 16th St. BART station.  You can sign up at the front desk.
If you prefer a more relaxing exercise routine, how about joining the Free Yoga classes with Jessica on Thursday, January 29th? There are so many health benefits of yoga, including improving flexibility, posture, and strength while keeping you from getting sick during cold season. The class starts at 6pm in the student lounge, and some mats are provided, but you may also bring a towel. There is no special equipment needed. Anyone can join. Sign up at the front desk.
The excitement continues into the weekend as Americans throw parties and hit the pubs for Superbowl Sunday on February 1st, in order to watch the most important football game of the year. Superbowl Sunday will be attract many football fans to sports bars, which are excellent places to learn about American sports culture and practice English with native speakers. If you prefer soccer to football, then you could join the ever-popular Soccer Game in Japantown with Wasim. Students and their friends gather and play soccer on an outdoor field in Raymond Kimball Playground every Sunday.
Due to the popular demand for Golden State Warriors tickets, the social committee has reserved more tickets for the Warriors vs. Dallas Mavericks basketball home game at Oracle Arena in Oakland on Wednesday, February 4th. The pre-ordered tickets sold out for the Warriors game versus Miami Heat, so you'll want to book your tickets ASAP. Check out the highlights of a past Warriors game against the Dallas Mavericks.
Keep an eye out for the February Social Activities calendar, which will be posted on Thursday. Be sure to "like" EC San Francisco's Facebook page, so you can stay up-to-date on all of our exciting events.
Comments
comments