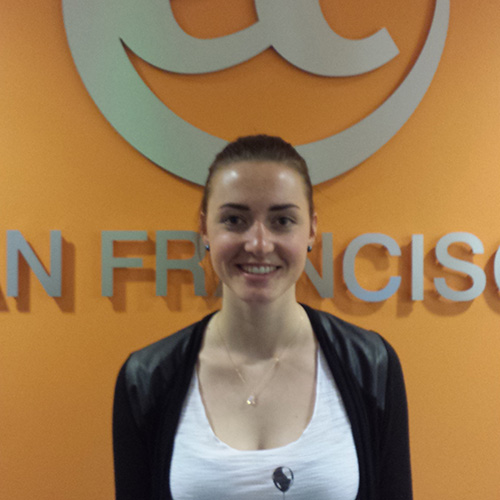 Hi, I'm Rahel, 21 years old and I' from Switzerland (German part). Before I came here I successfully completed an apprenticeship as a hotel assistant. After that I went for half a year to Latin America to learn Spanish. I'm studying English at EC to do the Cambridge First Certificate so that I am allowed to study Tourism in Switzerland. It's hard to say which my favourite place is in San Francisco. I really like the parks and the look at the city skyline.
San Francisco is one of the most interesting cities in the world. I have done a lot of activities since I arrived here. The most impressive thing for me is the diversity of cultures. There are so many different districts, you can experience all the traditional food and live the several lifestyles.
Besides, the people here are very important for me. When you are abroad without any family members or friends you get fast very close to each other. I will always remember the friends I met here because we experienced so many special things together. I am very thankful for this time and I am happy that I can live this dream. Everyone who has this chance should take it and enjoy every moment. One last thing which I like the most is to go in a park, chat with friends and enjoy the sun. In this moments I realise how great the life can be.
 Have fun and study English in USA!
Comments
comments