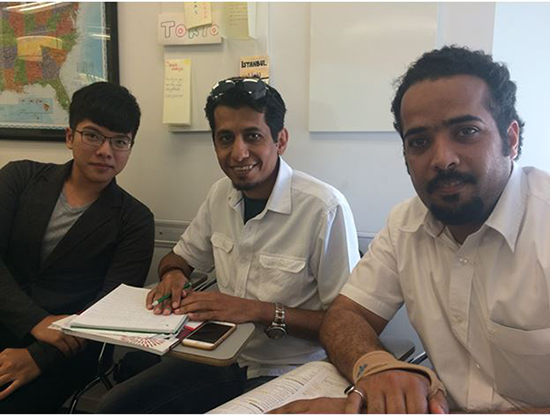 We study at Ec school, in San francisco. I like to study English at Ec. I first started on 21 june. I began in the beginer class. After two month, I passed to elementray. My friend Abdullah started 17 August, and my friend Weihao cames yasterday. We like to study together. Ec it is a good place to learn English.
First I like taking about ec school and my group here ,
Some one came here since 6-22-2015 and he's name Awiedh  and other student came since 8-17-2015 , that's me and my name is Abdullah and we have a new student today he's from Taiwan and he's name Wei Hao. All of us like the teachers and the system is very flexible and the institute's locatiion is very good because it's near from the bart station , that's what i like to talking about , thank you for the time.
I'm from Taiwan's student.
I am ready to learn six months of English in EC language school.
I think here's teacher are good person,because they want us to have a problem to let them know right away.
Learn English while you have fun here at San Francisco Language Center.
Comments
comments