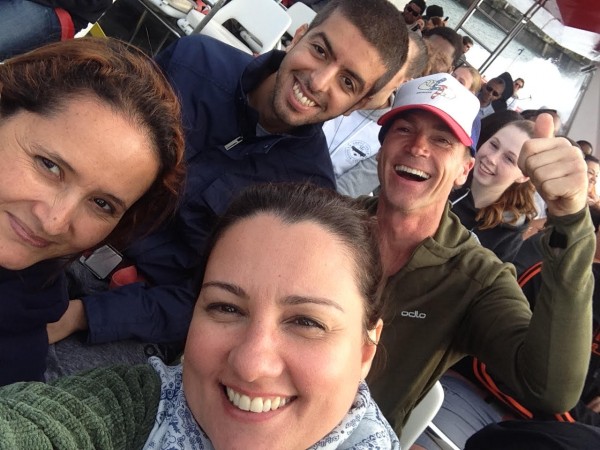 Abdulaziz , Gloria , Elisangela Michelle , and Yukari were all bold and eager enough to make the trip Saturday morning which proved to be gorgeous weather with no wind and in fact we got to see some wild animals very close up with raccoons and a male buck not 10 yards away from us!
The two hour hike was just long enough as we covered the west side with sweeping views of both bridges in the San Francisco Bay area as we walked surrounded by beautiful trees and absolutely no cars! A lot of people were on bikes and Segways  as well as a small tourist train that was too expensive for us.
We had fun taking turns helping Yukari up hills assisting her powerful battery -operated wheelchair and she got to take a lot of photos and selfies!There was live music at the café outside and a beautiful little beach.  I brought American footballs and frisbees but we didn't have time enough to play with them though there were a lot of kids playing American football on the once green field that's now brown from the drought.
We were all pretty happy to relax on the boat after the hike but a few of us went on the speedboat afterwards at Pier 39–it's called the rocket boat and I highly recommend it for another activity.
Comments
comments