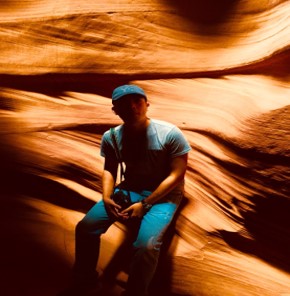 Chenghan, a student from Taiwan, stayed at EC San Francisco for 2 months. In addition to the English courses in San Francisco that he took, Chenghan met a lot of people from different countries and participated every week in EC San Francisco's activities. This experience was unforgettable for him! Here are some comments from Chenghan:
Why did you choose EC San Francisco?
I chose EC San Francisco for my journey because of the location, staff and the outdoor activity. The location is perfect! Super convenient, easy to reach! The staff here is so friendly, always welcomes you with a big warm smile!
What was your favorite EC activity? 
The outdoor activities let me meet more students here, and we can travel together, it was so fun! And the teacher who held the activity are always enthusiastic, they tell you about the history here, the best views in town…. You don't want to miss it!
How much did you improve?
I improved my speaking a lot! I was struggling to speak English before, but after studying here, I speak more fluently than before, because the teachers here are so patient and they encourage you to speak more!
 Would you recommend EC to a friend?
I will recommend EC to all people who are looking for a place to studying English of course!
Comments
comments