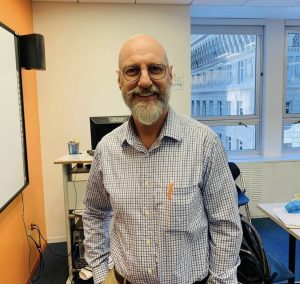 ATTENTION everyone!!!
The long waited interview is OUT now! Rafael and Alex, our awesome student ambassadors, conducted an interview with our most famous teacher Gregory. Gregory is our teacher since 2013. He's Australian American. He is strict but the most loved! He's currently teaching Advanced and Pre-Advanced Levels. He is also teaching afternoon classes; Grammar & Get Talking. Please enjoy reading…
---
What do you like most about being a teacher at EC?
I've always loved teaching, and the thing I love the most is seeing and bringing alive students' ideas and thoughts about specific topics.
What's your favorite skill to teach?
How to be polite, how to thin,k and how to speak fluently and properly.
What's the hardest part about being a teacher?
Coming up with new ideas constantly during every class.
What's your favorite "success story"?
Made some students think and act differently from when they had arrived.
Beside English, what do you make sure you educate your students about?
Gender equality, how to really think differently and how to see the world in a different way.
What is something you wish you teach in your classroom but can't?
Nothing! In my class we can talk about everything!! I'm open to every kinds of topic!
What's a word / phrase that you repeat so much in your classroom?
"What's a YEAH?"
"We don't say fine/good/great/like in my class!"
"Like?!"
"Cause or because?"
"Everybody gets a point!"
"Story time!"
"You said YEAHHHH!!!"
---
Oh my Gregory! That was a great interview. Thanks to Alex and Rafael and of course thanks Gregory!
If you want to be part of our student ambassador team and have access to interview our teachers, please sign up for English Courses in San Francisco
Comments
comments