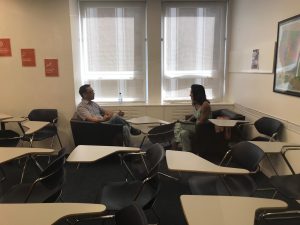 Glaucia, our brilliant student ambassador, conducted an interview with our popular teacher, Ricky. The interview took almost an hour. Ricky is also our accommodation coordinator. He's been working for EC for almost 5 years now.
"Working at EC is a Way to travel without travelling, because we can learn about a lot of countries without going there."
– Ricky!
---
Background & Experience: 
Ricky has a Master's degree in clinical psychology. He studied in San Diego for seven years. Then, he worked with people who were emotionally abused, or have behavioral problems. He also worked at a public foundation in Fremont, California for two years. Some of the challenges he faces were of some students who fought in school repeatedly.
---
Changing Careers: 
After working in the school system of fremont as a clinical psychologist, Ricky went to Thailand to get his English teaching certificate. He then moved to Japan to learn about Japan's education system. He taught English for one year. 
---
Being an EC Teacher:
Rick knows how difficult it is to study abroad, far away from family and routine, also to adapt to a new culture. Rick enjoys helping students to grow, to learn and to achieve their purpose. He knows how important it is to learn a new language to succeed. He enjoys being part of that success. He has seen students who got a college and master degrees in America. 
---
Success Story: 
Recently, a student got a job in an international kindergarten achieved her goal after being able to finally achieve the proficiency level she needed for the job. 
---
Favorite Skill to Teach: 
Rick likes to teach subject that could be useful in real life. For example, in his last class he took students from elementary level to the streets and taught them how to ask for directions. Students asked strangers on Market St for directions to a place they choose. They followed the direction given, and took a picture of the place once they arrived. Then another stranger for directions to a new place. The objective of the lesson was to help students to be confident to speak with locals, and to try to listen and understand what people are saying.
---
Hardest thing about being a teacher: 
Teaching people who don't want to learn. They are not aware of how many doors learning english can open for them in the future. 
---
Free time activities: 
Ricky enjoys running 3 times a week. He's also currently learning Japanese, Spanish and Indonesian. 
---
Inspirational Moment: 
Ricky was an assistant teacher in college. His professor asked him to give a lecture to 300 people. The challenge made him feel empowered but also nervous. Nowadays (ten years later), Ricky knows this professor was important and helped him out in his career.
---
Greatest teacher's advice: 
Find the answers for yourself, and try to find alternatives too! Because in real life, you will not always have a teacher to hand you down the answers. 
---
Embarrassing moment in Class: 
One day, Ricky brought a green Kamboucha to class, and when he tried to open the bottle, it exploded and went to the ceiling. He turned into the Hulk!
---
If you want to be part of our student ambassador team and have access to interview our teachers, please sign up for English Courses in San Francisco
Comments
comments