GUIDED SELF STUDY AT EC FREDONIA
Being on campus is a wonderful opportunity for EC students. It allows them to engage with American students all the time, in fun activities, sports, coffee meetings etc.
Sounds fun to be in a college environment. Well, let's talk about studying 🙂 .
There are so many fun things about the college life-style, but we know there is a lot of hard work too.  So, we use our university connections to make work fun!
Everyone has homework and projects, and we all know practice is the key to language success. Thanks to some volunteer graduate students in SUNY Fredonia, we were able to start our Guided Self Study Program.  Twice a week, EC and international university students meet with EC teachers and graduate students for personalized help.  Students get one-on-one attention with any work they bring and specially designed exercises to build their skills.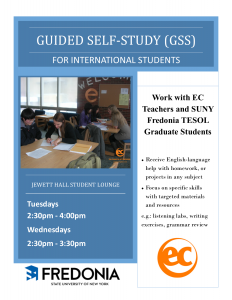 What our tutors have to say:
"Tutoring at EC English is one of the highlights of my week. I love getting to know the students on a personal level and they are so motivated to do their work and to perform well in and out of the classroom- GSS is a great program!" says Tina Schwartzmeyer, graduate student in the TESOL program on campus.
"It is amazing to work with students from so many different countries. I learn just as much from them as they learn from me. It is truly a great experience." says Shannon Farrell, graduate student in the MA TESOL program here at Fredonia.
Comments
comments