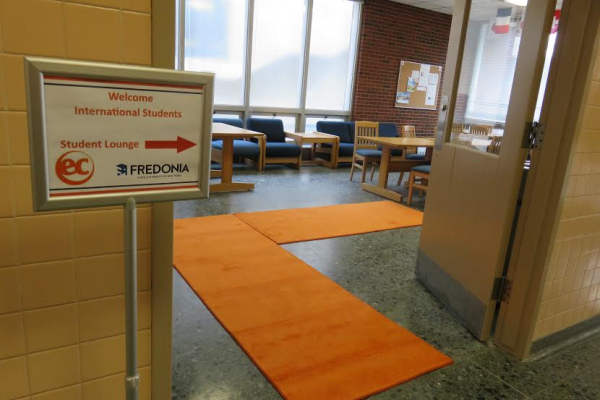 This week we have launched our new 'Orange Carpet Experience' at EC Fredonia! This is a new program to enhance students' experience here at EC Fredonia.
We start off by welcoming new students right when they arrive to Fredonia. When they first get to their dorm we want them to feel right at home with a personalized welcome letter from EC staff. The first Sunday the student is here, EC staff and Fredonia student interns join them for brunch at one of our dining halls that offers a wide variety of delicious choices. After brunch is concluded, a tour of Fredonia's beautiful campus is given. This includes everything from the several cafes available on campus to the art gallery.
On the first day of school we roll out our very own orange carpet and treat students like the stars they are. They will be given an introductory presentation along with a new approach to testing to see where they fit best at EC. With this comes a variety of pamphlets and information packets that inform the student about the Fredonia community and what it has to offer.
We also throw a celebration for each student's birthday at EC to make them feel special on their day.
Just like the arrival of a student, the departure is just as important. We conclude their stay at EC with a final meeting that provides us feedback about their experience and what we could expand on specifically at EC Fredonia. Lastly we hold a special farewell event to celebrate a student who has successfully completed their time spent at our campus.
We hope students can call EC Fredonia their home away from home with our new 'Orange Carpet Experience'.
Find out more about EC Fredonia's English for Academic Purposes program (EAP).
Comments
comments