On today's first EC Sydney blog, we interview Alphonso Jordan. He has worked here for 13 years and is both a popular teacher and the activities leader. Let's learn more about Alphonso.
Hello Alphonso, can you please tell us about your background?
I was born in Roanoke, Virginia and moved to Portland, Oregon, when I was about 4. I lived there until I came to Australia when I was about 29. I studied sociology at college and became a social worker. I played a lot of sports, American football and track and field. I worked as a social worker at a behavioural school. Disadvantaged kids were sent there from broken homes when they didn't fit into mainstream schools.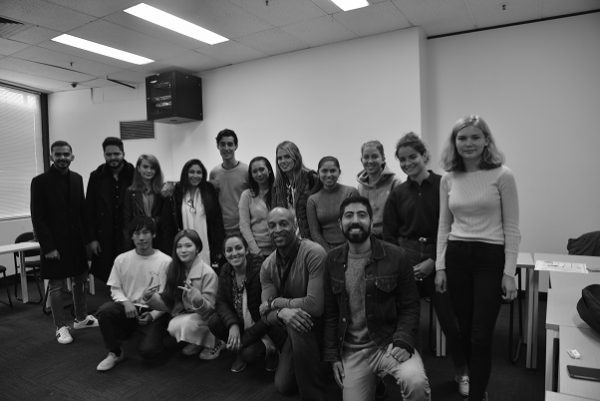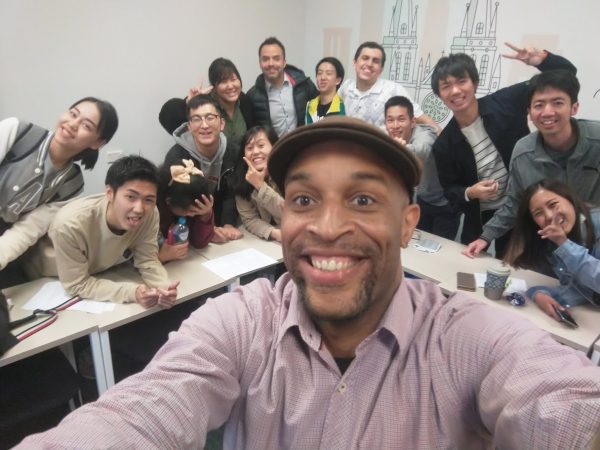 Why did you come to Australia?
Long story! I met my wife in The States. She is from Germany and I met her on the bus. We fell in love and I followed her to Australia. We got married here in Australia and we have been living here for 14 years. Now, we have 2 wonderful boys. Initially, I was working a waiter. I didn't want to work as a social worker in Australia and wanted to do something different. Then, one day I saw an ad in the newspaper for English teachers. I did my CELTA and then became an English teacher.  I have worked here for 13 years.
What do you love most about teaching and specifically about teaching at EC English Sydney?
Everyday is different. Everyday present a new, exciting challenge. I love meeting people from every corner of the world. It opens my mind. Now, I have friends all over the wall. Teaching at EC Sydney is awesome because the school is just around the corner from my home, hahahahaha. No, just jokes. I feel part of a family. It's a home away from home. I feel that my interests and talents are recognised and I have a sense of belonging. EQ (emotional intelligence) is recognised and I just really love working with people. From a teaching perspective, I like the fact that it is a creative process and we are encouraged to experiment with teaching, lessons and learning.
What are your top 5 things to do in Sydney?
1. The beaches: I love Coogee beach, Freshwater beach.
2. Skydiving: everyone should do it once. 3. Surf lessons: everyone should try it at least once. We have fantastic friends here in Australian Surf Tours (https://www.australiansurftours.com.au/) and the offer an amazing camping, surf tour. You learn to surf, meet Kangaroos, feed stingrays and often share the ocean with dolphins plus the surf tour people are just some of the nicest people you can ever meet.
3. The Coastal Walk from Bondi to Coogee: fresh air, amazing views, free.
4. Sunday Fun Day: the public transport is capped at $2.60 for unlimited travel all over Sydney. So, I like to hop on a train with family and/or students and go down to Kiama, or up to the Blue Mountains, or just exploring this great city.
Hey Al, that's only 4.
Hahahahaha… yeah, but it's a good list right! There is so much to do in this city!
You are the activities man for EC Sydney. What do you think are our best activities for students here?
1. The Manly bike ride. We catch a ferry to Manly, hire bikes and tour the Manly are. We ride up to North Head and check the view back to the city. It's safe and just great fun. We take some good photos.
2. Taronga Zoo is a must see. It's a great zoo with wonderful views back to the city.
3. Barbecues at the beach.
Hobbies?
Photography, running and basketball coaching.
Favourite movie?
Do the Right Thing and The World According to Garp
You like making short films with your students. Can you tell us about that?
The class movies are typically filmed in 2-3 hrs on the Friday before the final class of the cycle. The students are the main actors and I serve as the lead cameraman, director, producer, editor and stunt coordinator. I get 100% of the profits, which total around $0.  The movies are generally crime or some type of revenge genre, but often become a comedy because the acting is so bad. There are about 10 movies that have been made so far and the top 3 are:
Son of Sam, Kill Sibel, A Wolf in Sheep's Clothing
Thanks a lot Alphonso for sharing your interesting stories with us. We look forward to hearing more from you at EC English Sydney. Keep up the great work!