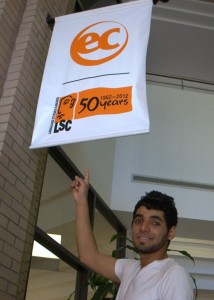 TORCH OF LIFE 
PRESENTATION BY KHALED KHATIB                                                                                            
When: Friday, August 10th 2012 at 1.30pm
Where: EC Toronto, 124 Eglinton Avenue West, Room: 320
 The Torch Of Life is an event that has the goal to promote awareness of the need for organ and tissue donations and to save as many lives as possible. The mission of the event is to encourage students to promote organ donation within their communities and to inspire the world by carrying the Torch through Canada. Even Pope John Paul II blessed the Torch Of Life and declared that organ donation is an act of love.
Khaled Khatib is a 20 year old Palestinian student at EC/LSC in Toronto. Together with Yeal Gladstone he carried a "Torch of Life" from Toronto City Hall to Queen's Park and Hospital for Sick Children in June, to promote organ donations for children.  Yeal is a 19-year-old Israeli student whose brother was killed by a suicide bomber and his kidney was donated to a Palestinian girl.  Khaled's brother was accidently killed by an Israeli soldier while playing outside with a toy gun and his organs were transplanted to five Israeli children.
Khaled visited 71 communities in Ontario during a 110-day walk, talking to children in schools and meeting children who received organ transplants. On August 10th Khaled will conduct a presentation at EC/LSC in Toronto about organ donations for children and his experience carrying the 'Torch of Life'.
Come and join us to listen to this special presentation!
Comments
comments