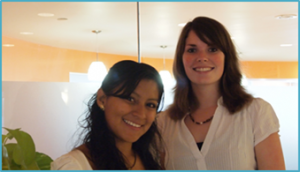 EC/LSC Toronto has new interns this summer!
Hi guys,
My name is Aida Victoria, I am from Mexico where I am studying International Business at Universidad de las Americas Puebla. I decided to come to Canada for 5 months to do an internship, which I think is very important to improve my English, to learn more about different cultures and to gain new work experience.
For me, Toronto is a beautiful city with a lot of beautiful and friendly people and I am quite sure that the experience I will gain here will be unforgettable.
Hi everybody,
I'm Corina and I'm 21 years old. I come from Germany where I am studying Business Administration at the Baden-Wuerttemberg Cooperative State University. The reason why I'm here in Canada is to improve my English language skills and gain a lot of new experiences. I really enjoy being in Toronto, it is a great city where you can do a lot of awesome things. I'm going to work for EC/LSC Toronto until the end of August and I'm having a lot of fun working here!
Comments
comments