Stompin' Tom Connors died this week at the age of 77. He will be remembered as a Canadian cultural icon who wrote and sang about simple things in life that everyone recognized as being truly Canadian. His hits over the years included "The Hockey Song," "Tillsonburg," "Bud the Spud," "Sudbury Saturday Night" and "Big Joe Mufferaw."
He was known as "Stompin' Tom" for tapping his cowboy boot on a wooden board to the rhythm of his songs, and was rarely seen without his black cowboy hat.
Prime Minister Stephen Harper paid tribute to Stompin' Tom: "Canada has lost a true Canadian original."
Jon Chodarcewicz, our Director of Studies and a longtime fan of Stompin' Tom, says:
"Growing up in a small town in Canada, hockey was always the main source of both exercise and entertainment – and everywhere you went, you always heard Stompin' Tom singing The Hockey Song.  The song is a Canadian tradition, which has been exported to hockey arenas all over the world – and is played in every National Hockey League arena at every single game – both across Canada and the United States.  You will hear it at international tournaments like the World (Junior) Championships or Olympics and even in European Hockey Leagues.  The song has become synonymous with the game of hockey, and while fans all around the world will no longer have the pleasure of sharing this earth with Stompin' Tom, his legacy still lives on at every "good old hockey game"!! "
RIP Stompin' Tom.
Check out 'The Hockey Song' on You Tube to hear Stompin' Tom at his best!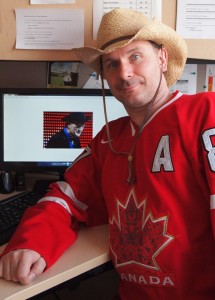 Comments
comments