Sweet Spring is coming!

Cultural information
Maple syrup and its derivative products are an integral part of Quebec culture. More than just another traditional product, maple syrup is one of the cultural elements associated with Quebecers and Canadians around the world. The source of many traditional dishes, maple syrup also remains a star ingredient in Quebec and international cooking in the 21st century.
Where do you find it
While these species of trees can be found in several areas of the world, they mainly find their proper climatic environment for maple sugaring in parts of southern Ontario, the Province of Quebec, the Maritimes in Canada as well as the New England States in the USA, and ten other states as far west as Wisconsin and Minnesota.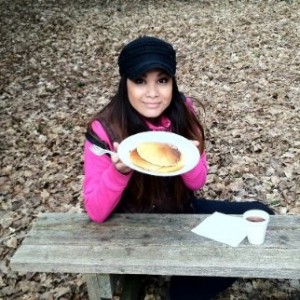 A student enjoying maple syrup on pancakes during a visit to a maple sugar farm.
EC Students — have you tried maple syrup yet? This is absolutely necessary while you are in Canada!

Collecting the sap — this is happening now!
Maple sap is collected by putting a spout into the tree during early spring (usually March and April) when maple trees are in their dormancy state. The sap runs out of the tree into a bucket and is boiled to make it more syrupy; nothing is added, it is completely natural. Cold nights and warm days are needed to produce this Canadian natural resource sold around the world.
Uses for Maple Syrup
On pancakes, waffles, French toast, to sweeten apple sauce, in milkshakes, tea, coffee, hot toddies, on fresh fruit (especially grapefruit), to add flavor to baked beans, to mix with butter and glaze squash, sweet potatoes, or carrots, on baking powder biscuits, fresh donuts, over ice cream, hot cereal, corn fritters, baked apples, custards.
EC Toronto students can go to many farms near Toronto where you can see maple syrup being prepared, and of course, try some on pancakes! yuuuuuuum! To visit a Maple Syrup Festival, March 2 – April 7, 2013, just follow this link, or book a tour at the Activities Desk on our 4th floor:
http://www.maplesyrupfest.com/home/plan-your-visit.dot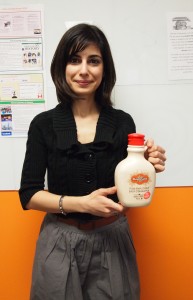 Our EC Toronto teacher Filia shows us her favourite treat — pure Ontario maple syrup!
Comments
comments