Earth Day?! What is it?
Earth Day was founded by Senator Gaylord Nelson of the United States in 1970. It is the largest, and the most important, international environmental event. This event helps celebrate the incredible biodiversity of our planet   (For instance  http://www.ecenglish.com/blogs/Toronto/?p=1143)
Earth Day is not just one day of thinking about the world, but a reminder of what we should be doing throughout the year. Therefore, people all over the world celebrate our efforts to protect plants and animals and to clean up the world.
Rallies in India, planting trees in Nairobi's forest in Kenya, working on a theme in China… this day reminds us we all share the same planet and every country has a different way to celebrate it.
Earth Day is celebrated every year on April 22nd…But at EC Toronto, we could not wait until Monday, and we decided to celebrate this event our own way! So this Friday morning, at the break, we celebrated OUR Earth Day.
EC students and staff shared a joyful moment with apples and coffee . All organic of course 🙂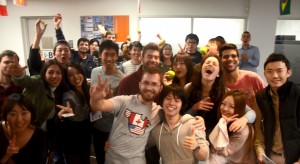 Joy and conviviality was shared by all, and we even had the chance to see a juggling number by Tokuhide!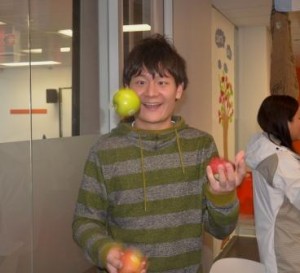 For the event, a tree was drawn and the students posted their recommendations in order to help EC Toronto preserve the earth! And even the staff and the teachers gave their recommendations!
Thanks to all for this EC Toronto Earth Day, you are awesome and with you we love what we do!
Find more photos and videos at EC Toronto on our Facebook page  http://www.facebook.com/ecenglish.toronto
Comments
comments