Are you able to quote three famous Canadians?
Maybe not and that's why your lovely EC Toronto team proposes that you learn some things about them.
He is one of the most famous actors in the world: He can be really funny like in The Mask or in Bruce Almighty but also serious like in The Truman Show. We are sure you know his name, but do you know he is from Toronto? When he was younger he lived in Newmarket, a beautiful and historic little city close to here. He began his career at 18 years old when his father decided to help him, conscious of his talent. His first stand-up was in Yuk Yuk's Comedy Club on Richmond Street, and today he has lots of awards… Great career!
Alanis Morissette – Be careful guys, you will be in love!
Alanis is a singer-songwriter guitarist and record producer. Born in Ottawa in 1974 she began to write at 9 years old and she produced her first album at 11!  Today, she is loved by lots of Canadians and people all over the world. She has won 16 Juno awards and 7 Grammies and has sold more than 60 million albums. If you're attentive to her videos, you will see some scenes taken in Toronto: In a TTC subway for example in 'Thank You'. Favorite song of your EC Staff? They are two: Crazy, and Guardians, and you should understand the lyrics if you are in an intermediate level English Course at EC Toronto.
Links:
http://www.youtube.com/watch?v=Lu0fTmHsDqE
http://www.youtube.com/watch?v=gCBIG28On0o
No, it isn't only a coffee brand, but yes, there is a link J Actually, our awesome Canadian brand was founded by Tim Horton, one of the better hockey players in the world. He played 27 seasons, 20 with the Toronto Maple Leafs! If you go to the Air Canada Center you will hear about him, or see some pictures for sure! Unfortunately Tim died in 1974, but he is still and forever in the heart of every Maple Leafs fan.
And remember what Joe asks all EC Toronto students on their first day — What is the most important word in English? There is a picture of it on every Canadian $5 bill!
 'HOCKEY'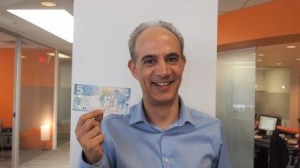 Your EC Toronto team hopes you have now learned about 3 famous Canadians. Do you know more? Send us a message on FACEBOOK — EC TORONTO — if you can name more famous Canadians!!! 
Comments
comments