A must-see: Casa Loma
Hey EC Toronto students! Here is the number two tourism destination in Toronto, just after the CN Tower!
Do you wonder what we are talking about?
Casa Loma, obviously!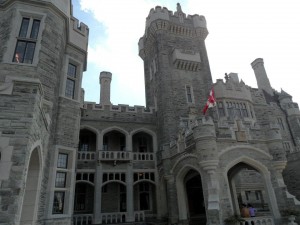 What is that?
Casa Loma is a huge, extravagant, marvelous, gothic style house midtown. Famous for its history, its architecture and also for the film work which has been done indoors, it is a must-see tourist spot!
 A bit of history…
The construction of the castle took 3 years (built between 1911 and 1914), and required not less than 300 men for the modest sum of $3.5 million! It is a beautiful property, with 98 rooms, perched high on a hill overlooking Toronto.
Inspired by a lifetime fascination for European castles, Sir Henry Pellatt, one of the wealthiest men in Canada at that time, designed his own chef d'oeuvre. This eccentric man conceived an incredible building, with two secret passages in his ground-floor office, an elevator, an oven large enough to cook an ox, two vertical passages for pipe organs, central vacuum, and three bowling alleys!
Did you know?
'Casa Loma' from Spanish, means Hill House in English!
1, 2, 3…Action!
All the interior shots of the first X-men movie were filmed in Casa Loma. You can walk through the building to see short clips of the movie, and the equipment still in place.
A beautiful place
The 5.5 hectares which surrounds the castle provide a wonderful layout. It`s so beautiful that when you stand in the garden you have no idea that you are in the middle of one of the biggest city in Canada!
Make sure you also visit the massive stables which are across the street; these are one of the most staggering spots of the house. The building is connected to the castle by a 900 foot long tunnel (300 m.). Beautiful stables, wooden made, Spanish style — at that time those horses lived better than the most of the people in the city!
Finally, one of our EC Toronto students who ventured into the castle reported that some parts of the house are haunted….who said that ghosts don't exist?
Location:
Casa Loma
1 Austin terrace, Toronto
to get there by TTC: walking distance from St. Clair or St Clair West station,  Dupont station, or the Davenport 127 bus
 Information:
Casa Loma proposes many nice tours and events for visitors, check out their website:
 General admission:
$20.55 for Adults (over 18)
$14.17 for Youth (under 18)
Are you coming to Casa Loma using TTC? Show a valid TTC Metropass and receive 20% off your admission and that of three guests.
Hours of operation:
Open daily from 9:30am to 5pm. Last admission is 3:45pm
Or you can go with other EC Toronto students – check our activity calendar!
See you there!
Your medieval EC  Toronto Team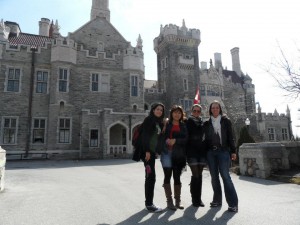 Comments
comments