SCENE 1, TAKE 2… ACTION!  Or  EC Toronto does Hollywood !
 At EC Toronto, we believe that students learn best by doing. Indeed the best way to improve skills and fluency is to practice English outside the classroom; that's why students come to an English-speaking country to study English. 
And that is why Peter, one of our incredible teachers, along with the incredible students in his Film Studies class, is producing an original film called "She Hasn't Decided Yet". Students are script writers, directors, cameramen, film editors, actors, promoters — taking on all the roles necessary to produce a first class film! Moreover they have been learning while having fun and have done everything themselves: the story, the outline, the script, and the storyboards…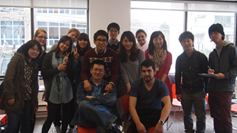 Film Studies class at EC Toronto
Filming is expected to wrap up this week, and the worldwide premier will be held next week at EC Toronto. Roll out the red carpet, get ready, it will be an exciting event! Your EC Toronto team hopes to see you there!
Check out the trailer that will certainly make you want to see the final cut:
https://www.youtube.com/watch?v=ymL6t4MZrQE&feature=player_embedded
Comments
comments