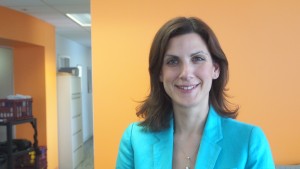 Meet Renée Rochard, our new AY Coordinator!
Today, it is a double comeback for Renée: she just landed in Canada 3 months ago and has returned to one of her first workplaces! Indeed, Renée had taught English at LSC Toronto (now EC Toronto) for a few years in her early career.
Originally from Toronto, Renée, a passionate Francophile, followed her dream and went to live in France. She spent the last 7 years living and working as an English teacher in Paris. A seasoned teacher, Renee has over 10 years of experience working in language education.
Other than teaching English, Renée is a fine wine connoisseur, likes folk music, plays guitar, enjoys cultural exchange and loves running. She is also the mother of two young children, who keep her very busy!
Renée is now in charge of our AY program, for students who are staying more than 24 weeks at EC Toronto. Renée is also responsible for all of the Higher Score exam preparation classes (IELTS, TOEFL, TOEIC) here at EC Toronto.
Renée is very pleased to be working here in EC Toronto's new office space and with such a great team:
"I am very excited about my new role with EC Toronto.  I consider myself lucky to work with such an exceptional group of people and I look forward to contributing as much as possible to the success of the Academic Year program."
AY student? Want to pass an English test? Need more information about tutoring? Come in to the office and ask for Renee. She will be very pleased to help you!
Welcome Renee, we are happy to have you as a part of our EC Toronto team!
Comments
comments