Hey EC TORONTO students!
What is black and white and loved all over, and a bit lazy?
The giant panda of course!
Whaaaaaaat?
G-I-A-N-T  P-A-N-D-A-S!
Wake up EC TORONTO Students!
Er Shun and Da Mao, a lovely couple of Giant Pandas, coming all the way from China, have decided to visit Canada! And guess what, as the first part of their journey, they choose to settle down in our great city of Toronto! They landed in the city two months ago and are now ready to receive their visitors, for our greatest pleasure.
What a nice chance for us, who already can enjoy meeting them at the Toronto Zoo!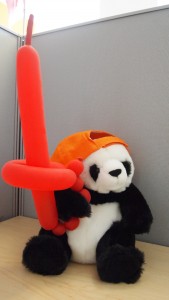 Here, in EC Toronto, we have also a very famous Panda!
Background
From long-term collaboration with China, it is the second time ever that Canada has received Giant Pandas. The first time was in 1985, when two of them spent the summer at the Toronto Zoo. This time, the pandas will be in Canada for at least 10 years.
Benefiting from this great opportunity, the Zoo's keepers have develop the 'state-of-the-art Panda Interpretive Centre', a center nicely designed where you can learn a lot about our friends the pandas!
Project
The Giant Panda is one of the most endangered species in the world, with only around 1,600 left in the wild. And, as always, their most deadly predator is man.
That's why the Toronto Zoo supports a bamboo and habitat restoration project in China through the Endangered Species Reserve fund in collaboration with the Memphis Zoo. As well the Toronto Zoo employs a Reproductive Physiologist who will utilize her expertise to establish a perfect breeding program for Er Shun and Da Mao.
Panda Facts..
The giant panda is the rarest member of the bear family.
99% of a giant panda's diet consists of bamboo. They may eat 12-38 kg of bamboo a day.
In the wild, a giant panda spends 10 to 16 hours a day foraging and eating. The rest of its time is spent mostly sleeping and resting.
A giant panda is born pink, hairless, blind and is 1/900th the size of its mother (about the size of a stick of butter)
Pictures & Video
Find some nice videos and beautiful pictures of those guys at: http://www.torontozoo.com/Pandas/?pg=Photos
Information:
Toronto Zoo proposes many nice tours and events for visitors so check out their website:
For the Zoo: http://www.torontozoo.com/
For the Pandas: http://www.torontozoo.com/Pandas/
Admission:
General Admission (ages 13 – 64)      $28.00
Hours of operation:
Open daily from 9:00 AM – 7:00 PM daily. Last admission is 6.00 PM
See you there for an enthusiastic and exiting discovery day, and remember to bring your camera to catch this dynamic duo!
Your wild EC Team
Comments
comments