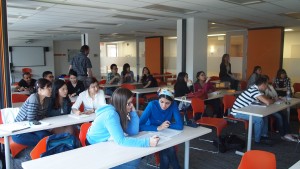 Do you know the recipe to be a great school?
Take a handful of very good teachers and staff who love what they do
Take a beautiful city like Toronto
Take lovely students like EC Toronto students
………..& go the extra mile for them!
At EC Toronto, we are not just a simple school. Every day, we try to help students succeed in a global community. That is why, every Wednesday we propose to our students an Academic clinic.
Academic clinic? What is it?
This is a short workshop on a practice subject in order to acquire specific skills or knowledge.
Therefore, every Wednesday, we have a clinic with an interesting topic! Last Wednesday, it was advice about "Speaking fluency", with Andrew.  He gave some valuable advice in order to improve the fluency for people who study ESL abroad at EC Toronto. You can see the photos on EC Toronto Facebook.
Next week (June 5), we are impatient to attend Peter's clinic, to learn about "Resume Building" for Intermediate to Advanced students.
You can find the entire schedule of these great workshops at the office on the 4th floor, but here are some examples of upcoming workshops:
Pronunciation practice for Spanish speakers,  June 5,  with Ashe
Presentation skills, June 19, led by Dave
Understanding vocabulary without a dictionary, by Skylar, June 26
Job interview skills, with Evan , July 3
All these clinics are great means to help students to develop their skills out of the class, so feel free to attend.
Comments
comments