For two weeks, your EC Toronto staff have been working on this TV to provide you with all the information you need about our school.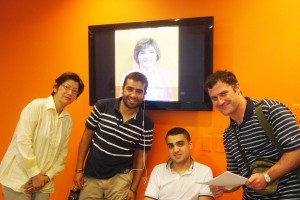 Takako, Andres, Billal and our teacher Mike
You want to see someone from our staff but you do not know his/her name?
Come on watch our Staff Presentation
You want to take a trip but you don't know where?
Find out about all destinations our EC Activities Team proposes
You want to know what the Academic Department does?
Come to see Joe's interview
You want to have English Courses for adults in Toronto as an Academic Year Student?
Do not miss Renee's interview
We also put on our ECTV a lot of news about events at EC Toronto: Maybe we you will see yourself there?
Comments
comments