Hey EC Students!
What will you do on your long week-end?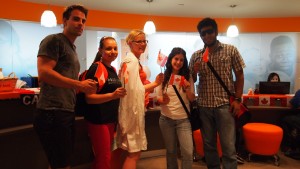 Because it's CANADA DAY!
Canada Day is the national day of Canada. Frequently referred to as "Canada's Birthday", this day marks the joining of three colonies in a single country called Canada within the British Empire, composed of four provinces (Nova Scotia, New Brunswick, Ontario and Quebec), by an enactment called The Canada Act (1867).
But Canada Day is also a federal statutory holiday in Canada and always celebrated on July 1st. This year, Toronto is celebrating Canada's 146th Birthday on Monday 1st July at Mel Lastman Square!
In Toronto, there will be large parades in the city all-day long. The biggest celebrations will take place in Mel Lastman Square in North York. (5100 Yonge Street) from 5.00 PM to 10.30 PM. The City of Toronto hosts a free outdoor concert followed by fireworks which will illuminate the sky at 10:15 PM in the park!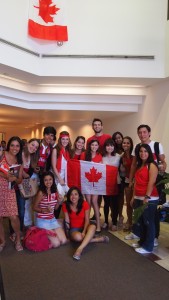 Here is the program of the celebrations:
5:00 – 8:00 pm                   Pop up music performances and kids crafts
5:00, 6:00 & 7:00 pm        Under the Big Top by Zero Gravity Circus
5:30 & 6:30 pm                  Lisa Odjig – Hoop Dancer
6:00 & 7:00 pm                  Northbuck Krumping
8:00 pm                                She King
9:15 pm                                Derek Miller Band
10:15 pm                              Fireworks Finale
There is also the "Ribfest" which is scheduled during the weekend in Centennial Park. It is a huge festival with live music, rides, and carnival games and of course…a wide selection of ribs! So if you're a BBQ lover and enjoy sharing a couple of beers, that's the place to be in Toronto! Even better, retrieved funds are donated to charitable associations for ending child hunger in the world.
Other events taking place in Toronto and what we recommend to our lovely EC students: The Pride Parade on Sunday June 30; Fireworks at Downsview Park; Canada Day Parade, Fireworks at Queen's Park; Canada Day Campfire (film); Canada Day Regatta (sport);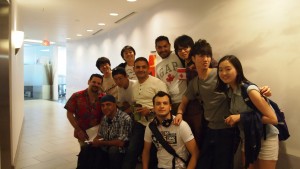 http://wx.toronto.ca/festevents.nsf/
Good news students!! The English courses for adults in Toronto will not be held on Monday!        School re-opening on Tuesday 2nd July. Have a great long weekend!
Your proudly Canadian EC Toronto Team
Comments
comments