Hey people!
Summer has finally come and our EC Toronto Junior Program started last week!
Students are already having a lot of fun here in Toronto!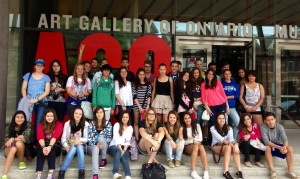 The junior program is a very exciting course during the summer, especially offered for young learners (13-17) from abroad. The program combines English courses in the morning and activities in the afternoons and evenings! Students have no chance to be bored!!
They get an opportunity to see/do different things each week, and participate in cultural (Art Gallery of Ontario, Royal Ontario Museum, theatre, Hockey Hall of Fame, …), sports (beach volleyball, soccer, baseball, football…), discovery (, Science Centre, Toronto Zoo, …), various summer activities (beaches, festivals, …), and so much more. Juniors also enjoy weekend trips to Niagara Falls, Grand River (rafting!) and the French part of Canada. What a walloping program!
There is a fantastic team of monitors and teachers to supervise the students, help them in difficult moments and support them in every way. But mostly to enjoy great times with our Juniors!
If you want to be a part of our EC Toronto Junior Program, bookings are not closed yet! You can contact our Admissions team for further information (But remember, the program ends August 18th).
We are really happy to have this program as part of EC Toronto. We believe that educating youth is a priority and that we contribute to creating a "global community" by making it possible for our EC Toronto Junior program participants to meet youth from different countries and backgrounds.
Juniors are also part of our global EC community, and help us growing up and go the extra mile!
To all our participants, have fun! To everyone not yet registered, come and join us!
Your EC Toronto Junior Program team
Comments
comments