Today's topic is something that every single EC Toronto student knows once they have landed in Toronto… Do you wonder what is it?
TTC!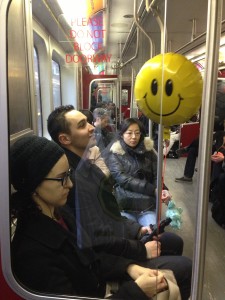 Here is a staple in the beautiful and great city of Toronto! Its name? TTC!
A bit of history…
Founded in 1921, the Toronto Transportation Commission is a public transport agency that operates in the Greater Toronto Area (GTA). The TTC services are composed of buses, streetcars, light rail transit, and the fantastic subway, of course!
…Until today!
Nowadays, the TTC is one of the most efficient public transportation companies in the world. And it operates the third most heavily used urban mass transit system in North America (after New-York and Mexico City). The TTC comprises four rapid transit lines Northbound-Southbound / Westbound-Eastbound (commonly called the Yellow and Green lines) with a total of 69 stations, as well as over 149 bus routes and 11 streetcar lines, of which 148 routes make 243 connections with a rapid transit station during weekday rush hours.
The TTC is directed by Andy Byford and has a team of over 12,000 employees. In October 2008, the company was named one of Greater Toronto's Top Employers by Mediacorp Canada Inc.
So relax and enjoy your trip to school every day! Just ride the 'Red Rocket' to the Eglinton station on the Yonge line, walk 5 minutes west, and you are here!
Your EC Toronto team
Some numbers:
Average daily ridership is 2.76 million passengers (WOW!)
528 million ridership projected in 2013 (more WOW!)
Average speed:

subway: 70 kph
Street car: 55 kph
Bus 60 kph
Comments
comments