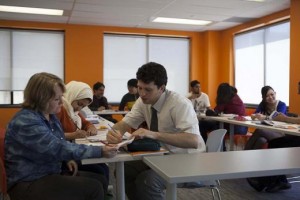 At EC Toronto, we have been offering a full-time teacher training program under the Cambridger umbrella for many years. Starting this September, we are offering a new part-time CELTA course in Toronto.
EC Toronto's part-time CELTA programme starts on September 10 and runs for 12 weeks ending on November 30. Lessons are on Tuesday and Thursday evenings plus six Saturdays.
The Cambridge CELTA, which stands for Certificate in English Language Teaching to Adults, is an initial credential for teachers of English as a foreign language. It's perfect for people who have little or no teaching experience. Cambridge ESOL also works with international English Language Training organisations to ensure the acceptance of CELTA globally.
CELTA covers methodology and techniques used in both TESL (Teaching English as a Second Language) and TEFL (Teaching English as a Foreign Language). CELTA is often called an ELT (English Language Teaching) certificate because it is applicable to all types of English language teaching.
Teachers who have gained their CELTA can teach English all around the world. If you want to travel and teach, a CELTA certificate will open a lot of doors to you.
EC Toronto also offers full-time, 4 week CELTA courses throughout the year. See course dates and fees on our website at www.ecenglish.com and go to the Teacher Training tab.
Comments
comments