Peter's High Intermediate class decided to practice interviews. Here is an example of what they wrote about their classmate Thomas:
Thomas Vigier was born in Lyon (France) in 1995. Last June he finished his high school studies and he will start Economic Studies at Lyon University in September. He hasn't lived very long, but he has lots of thing to tell us.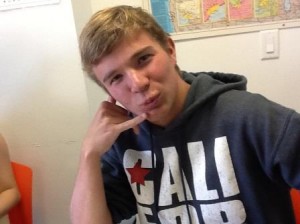 1. If you could go on a date with a celebrity, which one would you choose?
I would choose Penélope Cruz because I think she is very beautiful. (And of course because she is Spanish…)
2. How many times do you want to get married?
I don't know… maybe NEVER. I don't want to get married. I'm too young to think about those things. Now I'm focusing on video games.
3. If you could travel back in time, where and when would you go?
I would go to the Western era, the 1800s. I would like to wear a hat without its having to be a beret. I hate berets. The beret is a stupid hat.
4. What was the craziest dream ever?
One time I dreamt I was flying naked with a flight of panda-birds and I crashed into the Eiffel Tower.
 5. If you had $1,000,000, what would you do?
I would travel all around the world and I'd keep part of the money to invest and earn more money.
6. If tomorrow was your last day, what would you do?
 I would do something crazy, like go bungee jumping, go paragliding, or get married…
 7. What song reminds you of your first love?
"Stand by me" by Ben E. King. I remember the first time I sang it to my ex-girlfriend in the festival of Lyon. It was amazing.
8. What is your most attractive quality?
 I'm not a stressed guy. "Don't worry, Be happy". I'm a good-looking guy with blonde hair and blue eyes. This is my number: +33671357873. Call me.
9.Has anyone ever betrayed your trust?
Yes, of course. One time I told a friend that I loved a girl and he told it to her.. And another time when I was singing "Stand by me" at the stage, another friend revealed that I was lip-synching.
10. If you could change where you when born, what would you choose?
I would choose Sydney, Australia. I would like to be a kangaroo.
Interviewer : Melanie, Amanda, Pablo
Interviewee : Thomas Vigier
Comments
comments