Did you know Higher Score Canada offers IELTS classes at EC Toronto?
The Higher Score Canada® IELTS course has been designed to give you the maximum benefit in the minimum time. Our course uses unique study materials and exam strategies for IELTS that are not available anywhere else in the world.
We will help you learn and practice a quick and effective system for improving your writing and speaking for IELTS. We will also help you learn strategies and methods to increase your reading and listening skills.
Since 2004, over 97% of Higher Score® students  have increased their score. At EC Toronto, our expert teachers and professionally-designed IELTS course can help you, too. We aim to help all of our students score between band 6.0 and 7.5. Huseyin is just one of the many EC Toronto Higher Score students who achieved his IELTS goal with the help of our course. Congratulations Huseyin!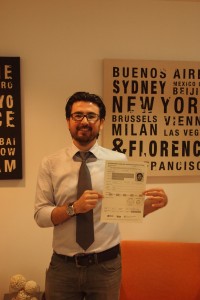 To learn more, check our website http://www.ecenglish.com/school-locations/learn-english-in-toronto/english-courses/ielts-higher-score-canada
Comments
comments