CNE in 3Fs: Fair-Fun-Food!
Toronto's best summer event is yet to come!
Anyone who has lived in Toronto during the summertime knows very well that it's quite difficult to get bored in this city.EC Toronto students who are here NOW are definitely lucky: the event we are going to present here is actually one of the most interesting of the entire year!
The Canadian National Exhibition is one of the largest fairs in North America. It is an annual event that takes place every August at Exhibition Place, now in its 135th season. The 2013 CNE edition runs from Friday, August 16 until Labour Day on Monday, September 2.
This huge event is a gathering point for attractions. The fair itself consists of a variety of pavilions, exhibits, shows, concerts, a working farm, horse show, casino, and a large carnival midway with rides, games and food: this all means GUARANTEED FUN! If you either are eager to get in touch with Canadian culture or just enjoy your week-end in a different way, the CNE is the right place to be. Go there and take a look around:  this is an annual tradition to many people in the GTA so go and satisfy your curiosity!
What are you waiting for, EC Toronto students? Hurry up and book your ticket! It's possible to get a discount of 33% if you buy your pass by Aug 16! And go to the EX, like Oleg!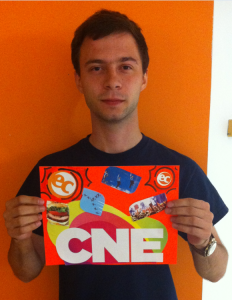 Your EC Toronto team
www.facebook.com/ecenglish.toronto
Comments
comments