Fun and donations to charity: the perfect combination!
Toronto is once again proud to host the Scotiabank BuskerFest (its 14th edition!) in support of Epilepsy Toronto. http://www.torontobuskerfest.com/
Performers from all around the world will take over the Downtown Yonge Neighbourhood from tonight through Sunday August 25.  There will be something for everyone: musicians, magicians, acrobats, daredevils and much more! Toronto is going to be literally invaded by music, artists and audience…for sure our EC Toronto students don't want to miss all this!!!
All proceeds from voluntary admissions will go to Epilepsy Toronto, a non-profit association committed to helping 40,000 Torontonians with epilepsy and their families.
Are these 2 famous buskers from the streets of  Toronto? No, look closer — I think it's Jon and Joe from EC Toronto's Academic Department!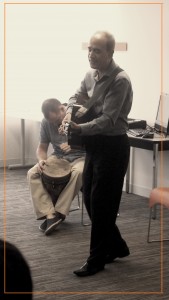 Do you listen to buskers every day in the subway stations as you travel to your English classes at EC Toronto? Do you know how those great musicians get to play their music and entertain you there? We want to tell you about the special relationship between our city and buskers. In fact, what makes this festival particularly significant for Toronto is an event which started in 1979 and totally changed the way 'buskers' are seen around the city.
Since then, their "profession" in Toronto's subway stations is controlled and regulated every year with a specific licence: to get this permit (which costs $150 for the year), every busker must apply for and pass the TTC Subway Musicians Auditions, which are held each summer over three days at the CNE (yes, it's now on!).
Toronto's buskers are self-employed, but for the winning musicians, they get the opportunity to play in the TTC system, following a specific playing schedule drafted by the TTC. You can see different buskers every day in the Eglinton subway station on your way to English classes at EC Toronto.
Learn more about EC Toronto's English courses at www.ecenglish.com/school-locations/learn-english-in-toronto
And on FACEBOOK at www.facebook.com/ecenglish.toronto
Comments
comments