Hey EC students!!! This is the last week our Student Ambassador Gineth is at EC Toronto.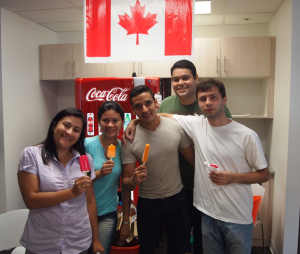 We are VERY sad to see her go, but in the meantime we are super happy for her because Saturday she is finally flying back to Colombia to hug her sweet children again ! In fact, our Gineth is not only a creative student, a nice woman and a fantastic student ambassador; she is a super mother as well, and her masterpieces Juanita (9 years old) and little toddler Miguel Angel (1 year old) can't wait to hug her again!
Gineth arrived at EC Toronto three months ago. She worked in Bogota and she really needed to improve her English because of her job. When she arrived here she had lots of difficulties in expressing her thoughts and communicating properly because she wasn't used to using English in daily life.
After 3 months of our General English intensive course (30 classes/week) the situation has completely changed: Gineth has improved incredibly and the fluency of her speaking is really impressive. She studied hard and attended class every day, and the result of all her effort is a great final achievement!
We are very proud to have students like you, Gineth! Everyone at EC Toronto is going to miss you and wishes you all the best! Thanks for your help!
Your EC Toronto team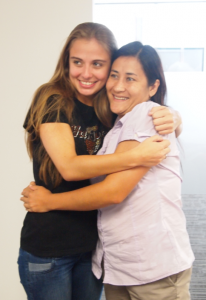 Comments
comments