Hello EC Toronto students!
Although summertime is making way for Fall, Toronto offers lots of outdoor activities for those who enjoy being out in the open air.
September has been chosen as EC's Wellness month, and we want to share with all of you a different and healthy way to get in touch with our beautiful city!
Cycling in Toronto is a fun and easy way to visit the city and enjoy its parks. Toronto's bikeway network boasts 563 km of bicycle lanes, off-road trails and signed routes!
You can cycle in and out of the city using the Waterfront Trail or the multiple rail and bus providers that offer valid bike transportation services. One of the nicest off-road bike trails is actually on the car-free Toronto Island and it is ideal for you if what you need is a quick escape from the city.
If you are interested in renting a bike to visit Toronto, you can choose either bike sharing or rental solutions. Indeed, Toronto offers a public bike sharing system called BIXI and lots of bike rentals spots as well.
So EC Toronto students, if you are interested in knowing something more about this, you can't miss with  the following website!
http://www.welcomecyclists.ca/featured-cycling/item/26-toronto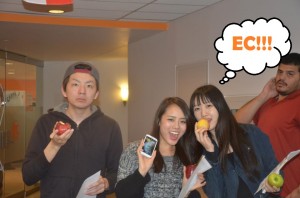 Comments
comments