Sometimes they come back
EC Toronto students hardly ever forget the sweet times they had at EC Toronto… and sometimes they come back here to take a new course or just to say hello!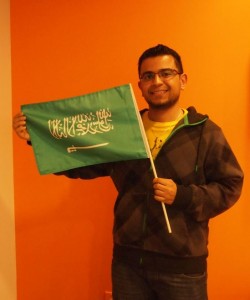 The smiling guy in the picture is Mohammed and he is from Saudi Arabia. 
He studied at EC Toronto last June and July. Do you know why he was here yesterday? Because he LOVED EC Toronto!
When Mohammed first arrived in Toronto, he couldn't speak English at all. 
He started in the Beginner class and he studied so hard that it didn't take much time before he was able to communicate with other students and make new friends from all over the world.
After two months, Mohammed moved up to our Elementary level. He was extremely happy about that, and he is today convinced that EC Toronto really helped him to achieve this result.
Yesterday he came to visit EC Toronto Staff and told us his big news: he finally moved to Canada and he is going to attend university in Halifax! 
English does not scare him anymore and he is ready to start this new adventure!
Good luck Mohammed! Everyone at EC Toronto was very happy to see you and hear your good news!
EC Toronto is on Facebook! Check us out!
Comments
comments