Dancing on the pier
If you love to dance, this just might be the event for you!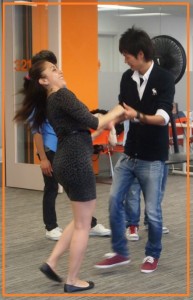 Hey EC Students!
Canadian summer is so short, why waste any of it inside?
Every week in the summer, dancers gather to the harbour front to take in a beautiful view and enjoy dancing in the outdoor.
Each week hosts a different kind of music.
If you don't know how to dance the specific night's theme, don't worry:  someone will give you a quick lesson before the night begins!
Learn dances from around the world, or just let go and dance along the music courtesy of the number of live bands grooving all day.
Dancing on the pier runs every Thursday night starting at 7 p.m. and it is now in its third edition. Tonight is the last dance of the season, so if you don't go now, you will have to come back next summer and study at EC Toronto so you can dance on Thursdays on the pier!
So, if you are strolling on the boardwalk tonight and you see hundreds of people dancing at Harbourfront, you will know that this isn't a ballroom: this is Toronto's waterfront.
WHERE: Harbourfront, 235 Queens Quay W
WHEN: every Thursday, 7 p.m.
LINK: http://www.harbourfrontcentre.com/summer/dancing/
Enjoy!
Your EC Toronto team
Comments
comments