Are you planning to take the TOEFL test? If yes, this testimonial could be useful for you!
This is Juliana, one of our students currently taking TOEFL preparation classes at EC Toronto.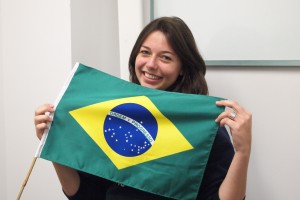 Juliana is an extremely friendly Brazilian student who joined our General English program the 2nd of July, but after a couple of months she decided to move to TOEFL classes to learn more about the test. Without any plans to take the real test, she was taking the classes to improve her English but after only one month of the TOEFL program she feels much more comfortable with the English language, Juliana decided to apply for the TOEFL and the 25th of October she will take it!
Juliana said that moving to TOEFL in Toronto was the best decision for her English, and she could see the results right away. Now she is very comfortable with her English skills and very satisfied with the program. She is so sure about the great results these classes can bring, that she convinced her friend to move to our TOEFL class as well!
Dear Juliana, our EC Toronto staff are very happy to hear that you are having such a great time with us and we wish you good luck with your test!!
To learn more about TOEFL at EC Toronto, follow this link:
Toronto – TOEFL – Higher Score Canada
Comments
comments