Hi all EC Toronto students!
Did any of you notice something strange happening on Sunday morning in downtown Toronto?
Actually we should

 say: SOMEBODY

 strange. 

In fact, fifteen thousand people (yes, 15.000!) invaded Toronto, running 5 kilometers around University Avenue and Queen's 

P

ark for the CIBC Run for the Cure.
And, you know what? EC Toronto staff 

were

 there!

 

Renee, our Academic Year coordinator, 

w

as proudly EC Toronto's team captain.

 

Teacher

s

 Marissa, Emily S., Martin, Tony, and 

S

tudent 

C

ounsellors Sara, Susan and Valentina joined 

the 

EC Toronto team with her.

 Some

 running, 

some

 walking, they all 

reached

 the finish line!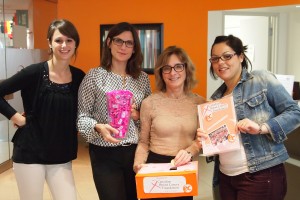 Fundraising to help 

the 

Canadian Breast Cancer Foundation is still open until the end of October.
If you want to help this good cause, find the pink mone
y box at EC Toronto's front

 

desk: put

 $1

 (or more) 

and your guess of how many pieces of pink bubble gum are in the jar. Then at the end of October, we will count them and the student with the closest guess will win the entire jar of gum!!!!!
We thank you in advance for your support

!
Comments
comments