At EC Toronto, our High Intermediate 3 class interviewed people in the streets of Toronto to find out what Thanksgiving means to them. Here is what Barbara and Melanie wrote:
Thanksgiving, what are you thankful for?
In Canada celebrating Thanksgiving is not only about good meals. People here take it very seriously to preserve native culture alive. Many Canadians celebrate this day with their families and friends and remember the most important things that happened in their lives and give their heartfelt thanks for all the good things.
In the street we talked to two different people who express their feelings about this important Holiday. They both agreed that Canada has a lot of things to be thankful because the country offers everyone a good structure and great opportunities. "When I came here I only had $ 500 dollars in my pocket. Now, I own my own company and I have to be thankful for that" – said Clulie.
Clulie is from Grenada, a small island in the southeastern Caribbean Sea. She embraced this part of Canadian culture and always celebrates this date with her family and friends. She also invites some people who are less fortunate so they can have a good dinner and a nice day to remember.
John, born in Canada, thinks that Holiday are more than having family reunited. To him, Thanksgiving is to celebrate the passages of the fall and the beauties of his country. "I go out for a coffee and promenade and look at the beautiful leaves". He also says that this Holiday gives him a possibility to share what the last year had given and to be grateful for the colorful leaves and the fruits of the earth.
Being international students, it's very interesting to see how Canadian and immigrants appreciate this time of the year. And we are thankful to be part of this celebration that says to the world: we are thankful for all the good things that happened to me. And you, what are you thankful for?
Happy Thanksgiving from everyone at EC Toronto!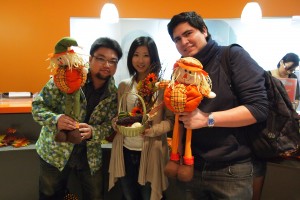 Comments
comments