This was written by a former EC Toronto student, who came to our school with no English and finished at the Low Intermediate level. He is now helping us in the school office as an intern — an amazing guy!
Hi guys! My name is Dhouglas and I have been here in Toronto since February 2013. I'm here to tell you guys one funny and very effective way to learn English in Toronto (for me). I'm talking about Karaoke!
 I come from Recife in Brazil and Karaoke rooms are not common there, so when I arrived here in Toronto I hung out with some Asian friends and we went to a Karaoke room. It was really great this experience. I can't speak Korean or Japanese so I have to sing English songs.
Now, I always go with some friends to a karaoke room because it is starting to be easy to sing songs in English (but that does not mean that I am a good singer LOL) and if you can sing you also can speak in English. The best thing about all this is because rooms are private so only your friends will listen to your beautiful or not so beautiful voice (I fit the second option).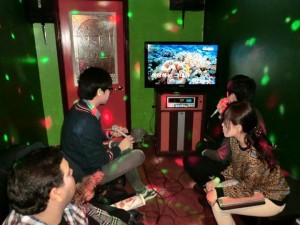 So guys, Toronto has several ways to have fun with friends and this is one of them. That was my tip for how to learn English and have fun here in Toronto. Do not forget to call me when you guys are going to some karaoke room!
===
EC offers various English Language courses, including basic English courses in Toronto.
Comments
comments