Happy New Year!
Korean and Chinese people celebrate New Year's Day at the start of the year on the lunar calendar and have done so for thousands of years. It is one of the most important holidays on their calendar.
New Year's is a family holiday, and the lunar New Year is a three-day event in Korea.  Most people try to return to their family homes to spend time with relatives and honor their ancestors.
The traditional New Year's meal is a soup of thinly sliced rice cakes (duk gook).  Because all Koreans turn a year older with the start of each New Year (and not on their birthday), many people tell their children that they can't get older unless they've eaten some duk gook. 🙂
Here is a typical Korean meal in honour of ancestors who have departed this world.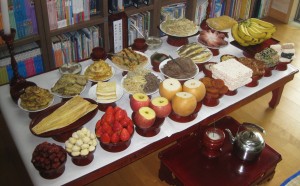 EC Toronto wishes all our Korean and Chinese students a very Happy New Year!  And if you are not yet a student at EC Toronto, you should be! EC offers various English Language courses, including basic courses in Toronto!
Comments
comments