Valentine's Day is a special day to celebrate the people you love.  There are many origin stories about Valentines day, the most popular dates back to the Roman Empire. Emperor Claudius didn't want men to marry during wartime because he believed single men made better soldiers. Bishop Valentine went against his wishes and performed secret wedding ceremonies. For this, Valentine was jailed and then executed by order of the Emperor on Feb. 14. While in jail, he wrote a love note to the jailor's daughter, signing it, "From your Valentine."
Valentines Day celebrations look different around the world. In Finland and Estonia, Valentine's Day is called  "Friend's Day." It is a day to celebrate friends, not only your loved ones.
EC Toronto is celebrating Valentine's Day with a party!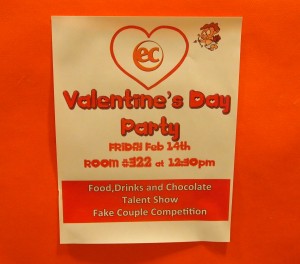 Comments
comments