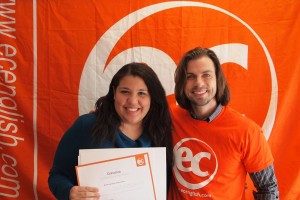 My experience in EC Language center in Toronto was Amazing!! When I arrived here I started at Elementary Level, but today I finish my Intensive English program in Toronto at High Intermediate Level. I could write just a few words in English and my speaking was no good. I couldn't understand anybody on the street. Now I can understand almost everything and my speaking is much better. My personal experience is great. I've met a lot of people from different countries and I've made many friends. My most precious treasure is the wonderful people that I've met, the excellent teachers I've had. The most important for me is the great life experience that I never forget.
I feel sad because I'm leaving, but at the same time I feel so happy. I've improved my English level a lot. I've learned about different cultures. My teachers have taught me more than a subject, they've given me lessons for all my life. I enjoyed every moment in this school. Thank EC for everything that I've learned! If I have the opportunity to come back I will. I would recommend this school 100% for sure, because this experience is not only about learning a language, it is about learning various cultures, new people, different life styles and views on life, etc. You will remember them all your life.
Marbeli Deutsch. EC English school in Toronto student.
Comments
comments