I've made dramatic progress in my English since I started attending EC English language center in Toronto. However, I believe that if I had only attended classes and hadn't put any effort into studying English, I wouldn't have been able to improve so much. Therefore, you need to make some effort in order to acquire good English.
Some people say that you don't have to stay away from people from the same country and you should even make friends with them so that you can help each other out. You might think that this sounds good, but this is not what I did. On the contrary, I stayed away from other Japanese students and tried not to speak Japanese. This really helped in the long term. Moreover, I recommend making Canadian friends. At the beginning, I found it pretty tough to make friends with native speakers because I couldn't speak English at all. However, I found different ways of meeting people, such as going to church and joining the gym. I think these were good ways of improving my English.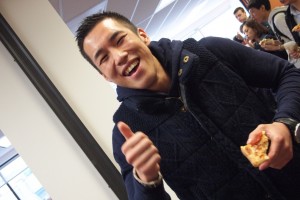 Finally, if you keep your eyes open, you can find many opportunities to improve your English and enjoy your stay in Canada.
Takao Akashi. Academic Year Program in Toronto student.
Comments
comments