Here you are!
Check out the free classes for EC Students on the week December 15 – 19.
On Monday: Breaking News
Let's be informed!
On Tuesday: Homework Club
Do your homework as well as you can!
On Wednesday: Pronunciation Clinic
Talk like a Canadian!
On Thursday: Conversation Club
Speak more accurate!
On Friday: Writing Wonders
Write like William Shakespeare 🙂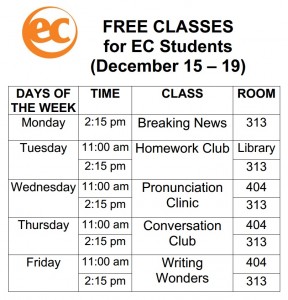 All students are welcome (English for work course, Intensive English program, TOEFL practice test in Toronto, etc…).
*To pass with flying colours – to pass with a very high grade (English Idiom)
Share your #ecexperience
Comments
comments