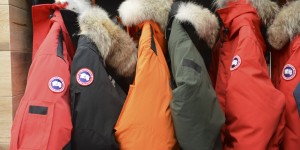 For the long-term students (more than about 6 months), the lecture featured on the life in Toronto was provided by two students.
Arnau Lagarda, from Spain, started at EC from last September. Luis Roberto Biosca from Mexico has been here since last August. They've started from Upper-Intermediate class, and are impressively in Proficiency class now.
A lot of things they've learnt for this 6 months was conveyed to other students who aim to improve English and also are looking for something new to enjoy their life in Toronto.
Firstly, they showed what they need to buy to get through this severe winter and things to do to kill time such as reading books, portable video games, playing guitar  and so on. Canadian goose, the warmest coat brand, seemed to be like common sense even for them.
As from the question by some students, they shared how to study English from some different aspects. Some points they've been careful about how they live will be useful for everyone who have studied English.
・Not only pay attention to classes, but also be social and talk without any fear.
・Be open minded and make friends with people from different countries as many as possible.
・Make an opportunity to talk as long as you can, with home stay family and roommate.
The feelings shared only with long-term students were also mentioned that they need to get over to say good-bye to many friends. Making new friends can avoid depressing, so it is a big key not to stop finding something new for the life in Toronto.
Find out more about learning English in Toronto.
Comments
comments